Princeton Symphony Orchestra
Aligning organizational vision and web presence 
The Princeton Symphony Orchestra has been a cultural centerpiece in Princeton, New Jersey since 1980, and hosts performances as well as an array of educational experiences, such as lectures, children's programs, collaborations, and more. Their website needed to be redesigned and redeveloped to be accessible and more clearly convey the organization's story via architecture, content strategy and visual design.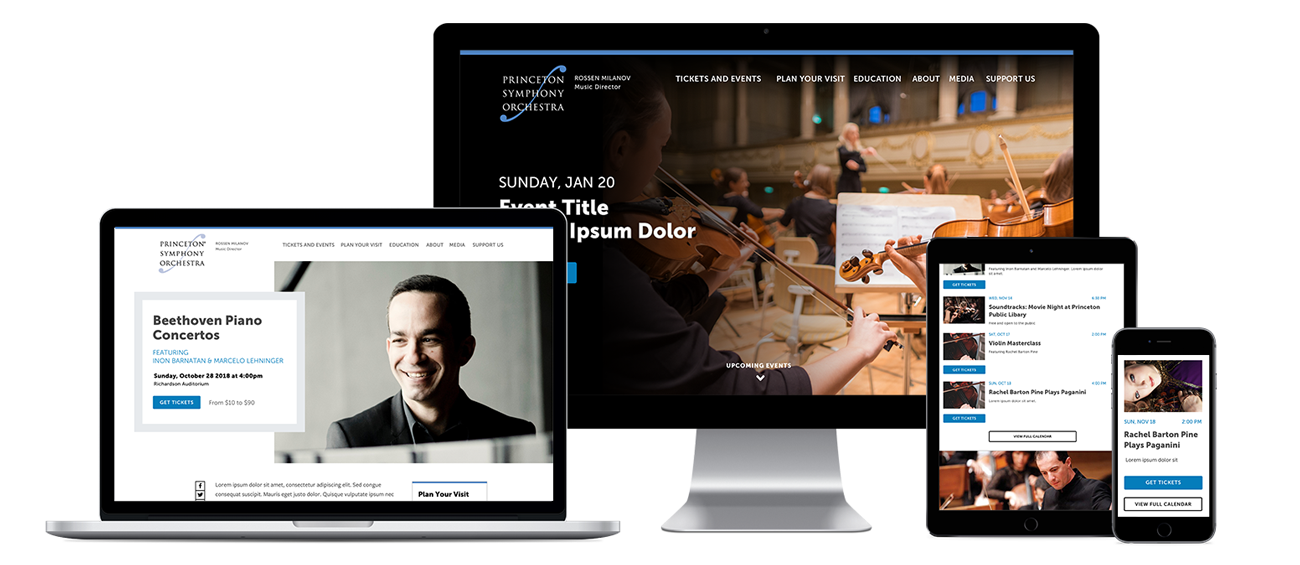 The Challenge

Princeton Symphony Orchestra 's web presence was failing to keep up with this company's new directions.  They needed a site that reflected a more accessible approach to the appreciation of classical music and a more community-driven focus on educational activities designed to inspire a younger generation.  Their site was dated and reflected the more expected approach for visual design of more conservative and traditional orchestras.  Their site was not mobile-responsive or accessible, limiting usability and reducing opportunities to drive ticket sales and attract new audiences.  Most importantly, it lacked an intentional content strategy, which undermined their ability to emphasize the amount of community engagement they fostered.  

The Solution

Message Agency helped bring a fresh perspective to the site, providing a visual design that feels more contemporary and relevant, while also honoring the rich history and cultural significance of the institution.  We also provided an information architecture and content strategy that helped to bring their community and educational work to the forefront, helping to attract the attention of new stakeholders as well as enriching the experience of loyal members and concert-goers.  They were able to more effectively use web-based interpretive content, multimedia, and educational resources to deepen an appreciation for their performances among both new and existing supporters.
The site features a media-rich performance calendar, opportunities for marketing ticketing and subscription packages, and a "Watch and Listen" media center to help their audiences enjoy their performances at any time.  It also allows PSO to link directly to their ticket purchasing platform on every event, making the transaction easy and seamless for end users.