Message Agency wins a Webby for pafa.org!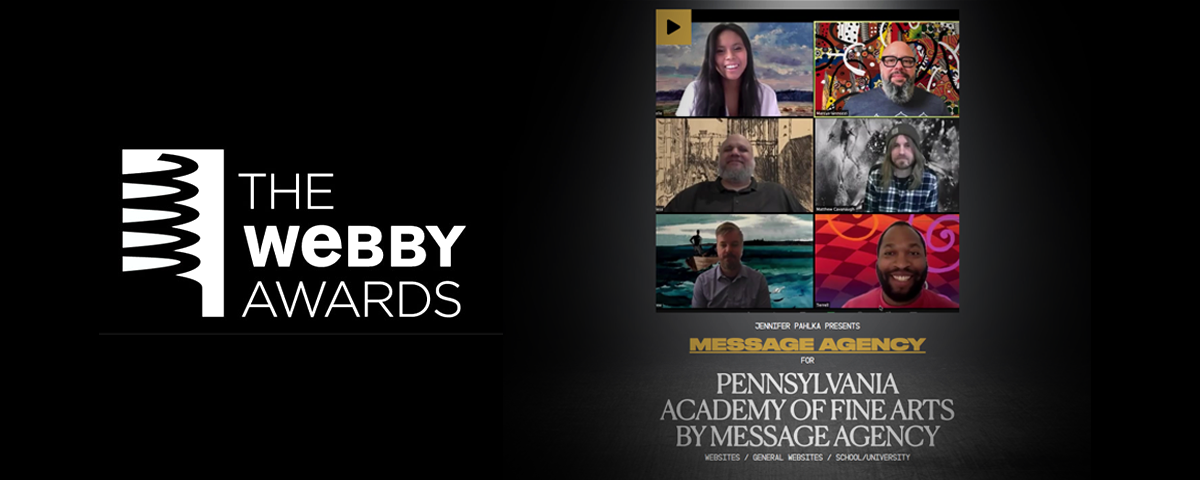 We are honored to be selected by the International Academy of the Digital Arts & Sciences as the winner for the School/University website category in 2020.
We are thrilled to know that this work was recognized by the most widely recognized award in our field.  We are also grateful to PAFA, Maria Sciarrino, and former Chief Marketing Officer, Malini Doddamani for their trust in our direction, great ideas, and unwavering support throughout the project.
Awardees were asked to record a five-word acceptance speech, which is available on the WebbyFromHome site. Message Agency staff who worked on the site assembled on a Zoom call, with backgrounds downloaded from PAFA's extensive digital art collection, to say:  "Creativity is contagious.  Pass it On."  We felt this quote from Albert Einstein represents the value of creativity in helping us face obstacles and spread joy, particularly in these difficult times.  
About the Project
The pafa.org website was a complex, content-rich website that had an attractive visual design but a challenging and rigid content strategy, information architecture, and administrative interface.  The Pennsylvania Academy of Fine Art (PAFA) asked us to upgrade the site to Drupal 8, redesign the user experience, and make the site's templates more flexible so PAFA's expert Web Marketing Manager, Maria Sciarrino, had more control over storytelling.
The site also suffered from an overly complex navigation structure that left users confused and lost as they traveled through the site.  With a large range of stakeholders visiting the sites for very different reasons—students, adult learners, museum visitors, supporters, and others—we realized that the architecture needed two different front doors:  one for students, at pafa.edu; and one for external audiences, at pafa.org.  Both sites live on one Drupal 8 instance, and users are able to easily navigate back and forth, if needed, using a tabbed global navigation element.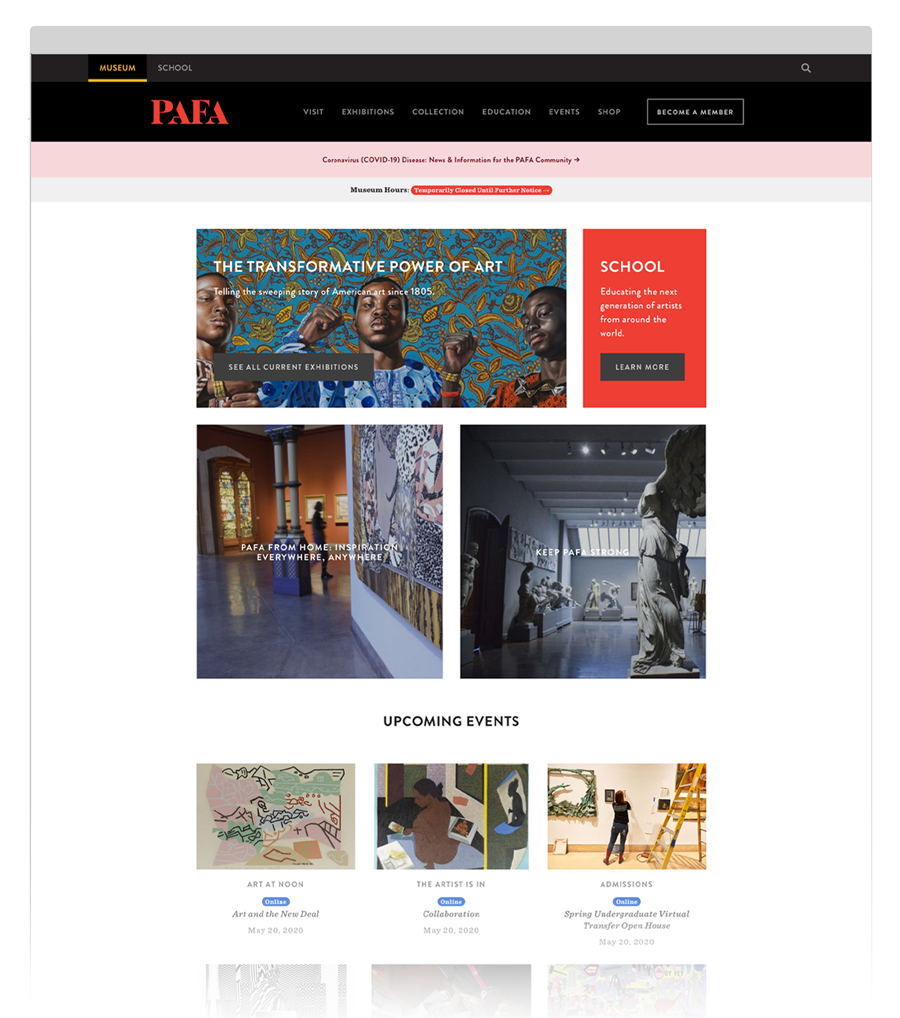 About the Webby Awards
The Webby Awards are the leading international award honoring excellence on the Internet. Established in 1996, the Webby Awards are presented by the International Academy of Digital Arts and Sciences (IADAS)—a 2000+ member judging body. The Academy is comprised of Executive Members—leading Internet experts, business figures, luminaries, visionaries and creative celebrities—and Associate Members who are former Webby Winners, Nominees and other Internet professionals.