Escaping the Cycle: B Corp Champions Retreat Bike Tour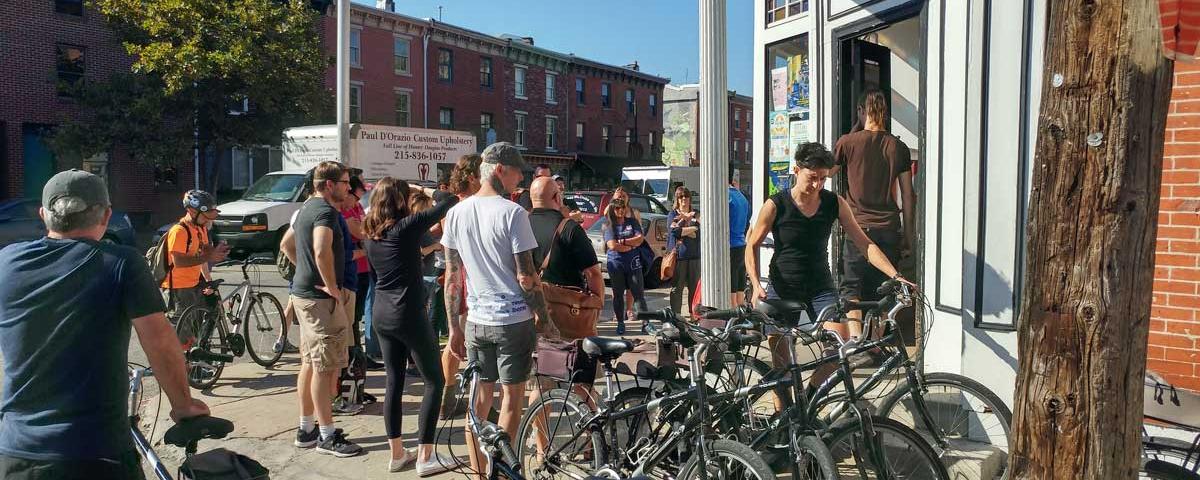 Each year people from the B Corp community worldwide convene at the B Corp Champions Retreat to reflect on the growth and impact of the movement. The Retreat is hosted in a different city each year, with Philadelphia serving as the 2016 location. This year, Message Agency partnered with Gearing Up to organize a bike tour that was offered as one of the Champions Retreat activities. Project Manager Angela Smith talks about the bike tour and its focus on workplace inclusion and post-incarceration employment.
How would you describe the Champions Retreat Bike Tour to someone unfamiliar with the community?
It's a way for business owners to have a valuable discussion about workplace inclusion with formerly incarcerated women, and women in addiction recovery. There are 14 million working-age adults in the U.S. who have served time in the past, and many of them are eager to join the workforce. But they experience a lot of barriers preventing them from moving forward; that's why we named this ride Escaping the Cycle.
Where did the idea for the bike tour come from?
Marcus noticed in July that there wasn't a bike tour suggested for the Champions Retreat that wasn't a purely social occasion, so he suggested we come up with one.
We are working with Gearing Up on a separate pro bono branding and web development project, so they were an obvious choice to partner with on it. So I wrote up the proposal with valuable input from Al Sharrock at Gearing Up.
Who else is helping to organize the bike tour?
We definitely couldn't do this without Al Sharrock at Gearing Up. She is recruiting interested participants and helping one of their most dedicated riders plan the route.
And Rebecca Jewell at B Corp provided lots of helpful feedback about our proposal. And Mugshots Coffeehouse is a local B Corp where we'll be having lunch!
What made Gearing Up an ideal partner to work with on this tour?
Gearing Up is a great organization that is doing really good work here in Philly. They offer women—many of whom have been recently released from incarceration—who are participating in recovery programs the opportunity to get fit, make friends, and earn a bike of their own. Having their own means of transportation helps the women become more independent. Gearing Up leads at least eight group rides with their participants every week, so they know the city and its bike routes extremely well.
Many of the women face an uphill battle to find gainful employment once they are released because of their past mistakes. We wanted to open a dialogue with the business community about ways that they can integrate non-traditional candidates, who have tons of talent to offer, into their workplaces. We were lucky to have connections to both sides of the issue that made it possible to facilitate this.
How do your own goals and values relate to the bike tour?
I've been volunteering with Gearing Up for a few years, and believe strongly in their mission of empowering women who are transitioning out of incarceration, addiction, or abuse. It's awesome seeing a woman who started out wobbly and unsure log her 150 miles and earn a brand new bike of her own.
I'm also proud of working at a B Corporation—and cycling is my personal passion—so I particularly like the idea of getting to introduce Champions Retreat attendees to another view of Philadelphia.
What is the main theme or goal of the bike tour?
We'd like business owners to leave with a fuller understanding of the problem of limited post-incarceration employment opportunities, and ideas for how to incorporate inclusion into their own business practices.
We'd like to help the Gearing Up participants have their voices heard and respected, and allow them to network with business owners and receive good "insider information" that they can apply to their own job searches.
What is the sense of community or common ground that you hope to facilitate through the bike tour?
I think that everyone on the ride really shares the desire to give back to and improve their communities. B Corp business owners try to demonstrate their commitment to social impact through their business practices. And the women who are part of Gearing Up are eager to honor their commitment to recovery by participating in the economy and supporting their families. Job creators and job seekers obviously have strong common ground.
What is the general layout of the bike tour?
We'll provide talking points and a factsheet to attendees a week before the ride to ensure that everyone finds our discussion productive. On the day of the ride, the B Corp group will meet up at a bike shop to get their helmets and loaner bikes; the rest of the riders will join them there. We'll then take a spin around some local neighborhoods to see sights that our ride planner finds particularly meaningful, and continue the discussion over lunch that afternoon.
How would participants hear about and access bike tour?
This, along with several other volunteer and community opportunities, was presented on the Champions Retreat website as an optional activity that attendees could participate in.
B Corp attendees pay a small fee to cover the cost of rental bikes and lunch, but there's no cost to Gearing Up participants. All the slots on the tour were filled, so I think this is a topic that people are very interested in.