On Being a B Corp: A Better Business for the Greater Good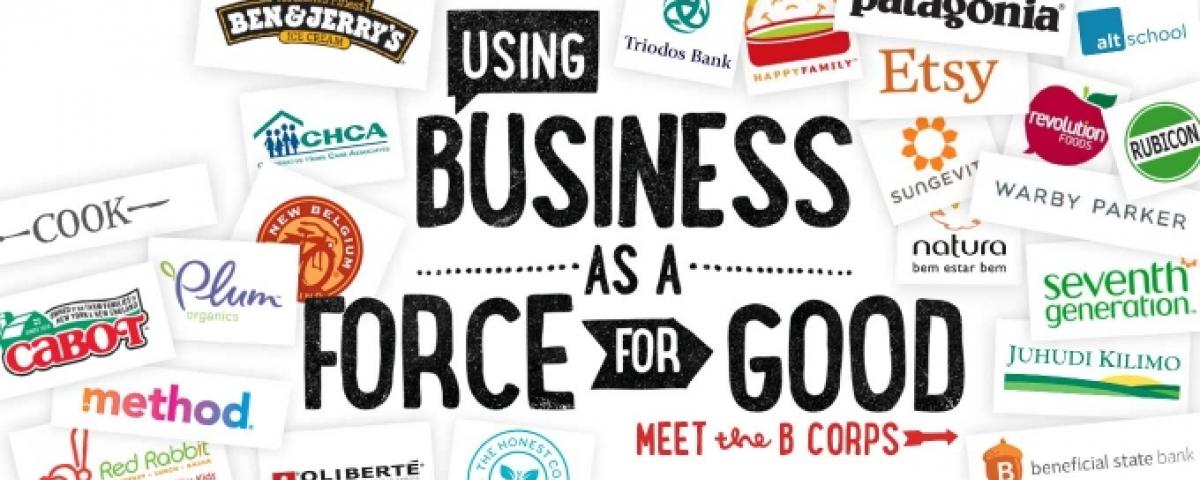 "Has anyone here heard of a B Corporation®?"
When I ask this question during conference sessions or meetings, it's becoming more common these days that staff at nonprofits recognize the term. Compared to even a few years ago, when only one or two hands were raised, awareness of this movement to help redefine the purpose of business is clearly growing. It's not surprising—at the same time nonprofits are becoming more entrepreneurial, the reverse phenomenon is occurring among for-profit businesses, many of whom are seeking to focus more on their social and environmental impact as a central focus of what they do and how they do it. There is an interesting convergence between these two sectors, and it's creating even more intriguing versions of both types of organizations.
Why should nonprofits do business with B Corporations? With high performance standards on a company's business practices and impact, it means a better alignment with nonprofit values and cultures.
What "B Corp" Means
There are over 1,600 Certified B Corporations from more than 120 industries and 40 countries that share one unifying goal: to use business as a force for good. B Corps aren't just small businesses, either; companies like Ben & Jerry's, Honest Company, Patagonia, and Dansko are all certified. However, B Corporations are more than just companies that do pro bono work, serve nonprofits, volunteer, or even donate a share of their profits to a good cause. They represent businesses that fundamentally operate differently than others. Organizational decision-making is not driven solely by profit-making. While balanced budgets are important for the health of any organization, B Corporations define success using a triple bottom line: people, planet, and profit (in that order).
The certification is administered by B Labs, a nonprofit organization that manages a rigorous assessment of a business's practices, accountability, transparency, social impact, and employee benefits and participation. It's like a Fair Trade (or Certified Organic or LEED) certification, but for the whole company. The performance standards B Corps meet are comprehensive, transparent, and verified by B Labs. They measure a company's impact on all its stakeholders—workers, suppliers, community, customers, and the environment.
What It Really Means—To Us
Message Agency was behaving like a B Corporation long before we found out about this certification and movement. We're proud that we were ranked a "Best for the World" the very first time we took the assessment. Our score not only qualified us as a B Corp, it was in the top 10% of all B Corps for two years running.
As founder, it represents a commitment I have had during my 25-year career to doing business differently. Message Agency has been a bootstrapped operation since Day 1. We are not beholden to any outside parties or investors (including banks), so we can decide to reinvest profit in our staff and our clients, not deliver on an expected return. We have always had generous benefits policies, even for a tech company—and particularly despite our size. We are one of the most diverse tech workplaces in Philadelphia, and we have a narrow distribution of wages across the organization, from the owner to the lowest paid employee.
In short, our business operates not to simply to maximize value for me, as the founder, but for all of our staff and our clients, whom we view as partners. We also do not believe in growth for growth's sake: while we have increased dramatically in size over the past two years, it has been to serve more clients and serve them better, as well as to add much-needed jobs to Philadelphia's economy. We seek to add value to the nonprofits we serve, and in turn help them to increase their impact on the communities they serve.
Why B Corps Make Good Nonprofit Partners
The culture of organizations with this level of commitment to using business as a force for change aligns well with that of nonprofits, and makes us good partners and providers—whether the service relates to technology, food, cleaning services, or energy.
For Message Agency, it means that projects and relationships are not simply driven by the amount of revenue we can obtain; it is about making the engagement make sense for all parties and helping clients determine the best ways to invest their precious dollars. This sensitivity is not shared by all vendors, even those who serve a fair number of nonprofit organizations. It drives us to make decisions differently and to manage projects with not only our interests in mind. This awareness extends across our staff, as over 50% come from the third sector and understand fundamentally how nonprofits work and how important it is to work with a partner that cares about more than their own bottom line.
If you want to learn more about B Corporations or want to do more business with folks like us, visit B Labs' website. You can search for a business by industry here to help invest in a business movement for social and environmental impact. Be the change!